More Canadians Planning to Spend Less this Holiday Season
Equifax survey suggests it's because they're already carrying too much debt
In advance of Black Friday more than half of Canadians (55 per cent) say they will be spending less on holiday gifts this year, according to a recent survey* by Equifax Canada. This comes following Equifax Canada's Q2 Consumer Credit Trends Report, which showed total debt per consumer rose by +1.9 per cent at the end of the second quarter in 2019.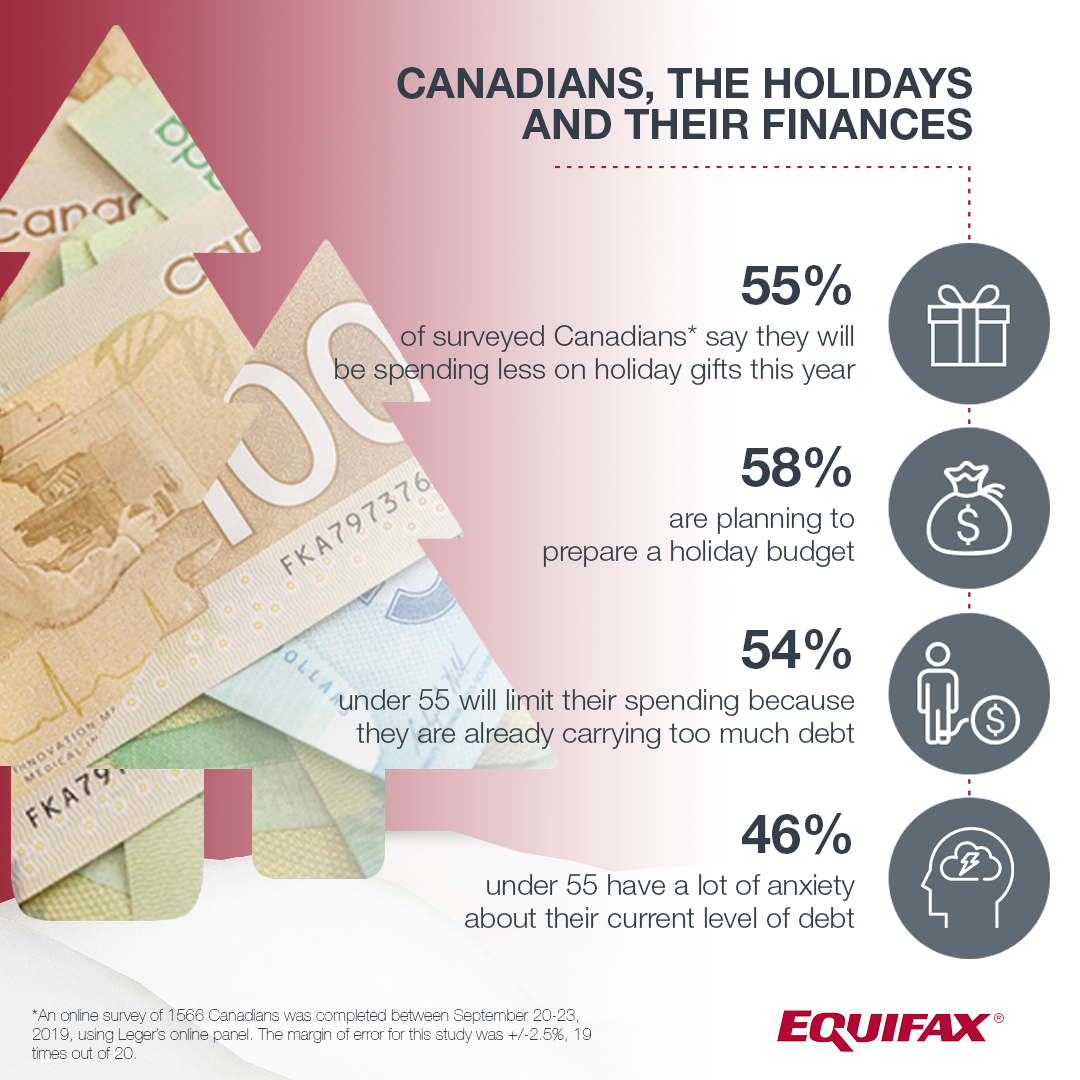 According to the survey, women were more likely to say they would be spending significantly less at 61 per cent versus 48 per cent of men. Canadians under the age of 55 were significantly more likely to agree they will limit their spending because they are already carrying too much debt, and they have a lot of anxiety about their current level of debt. Survey respondents between 35-44 had the most concern about current debt levels (58 per cent compared to 46 per cent for the general population) and the most anxiety (49 per cent compared to 39 per cent for the general population). The majority of people surveyed, however, are working towards being financially fit for the holidays with 58 per cent of them planning to prepare a holiday budget.
"These survey results illustrate that many people are feeling the pinch and plan to rein in their holiday purchases this year," said Julie Kuzmic, Equifax Canada's Director of Consumer Advocacy. "If there's a silver lining here, it's the fact that most Canadians remain conscious of their debt obligations and want to avoid adding too much debt heading into the new year. This is not surprising, as we have seen higher interest rates impacting consumers over the last 18 months. Bankruptcies have also jumped significantly and even credit card spending growth has tailed off in 2019."
When asked how long it would take to catch-up on their holiday spending, one-in-three (36 per cent) of survey respondents said it takes them a month or more. As a further indication of where Canadians stand with their debt obligations, Equifax Canada's Q2 Consumer Credit Trends Report found the rate at which consumers were missing monthly payments was higher and bankruptcies also continued to rise as compared to last year. Newfoundland (+11%), Alberta (+7.9%) and Ontario (+7.8%) led the way higher in 90+ day delinquency rates in a year-over-year comparison.
FINANCIAL LITERACY AND PREVENTING ID THEFT
Beyond examining concerns about debt, Equifax also asked survey respondents about their financial literacy and the steps they have taken to avoid becoming a victim of identity theft. The results indicate Canadians appear to be taking the threat more seriously. In a similar survey conducted three years ago, 64 per cent indicated they feel vulnerable to fraudsters and identity thieves. This number has significantly dropped to 45 per cent in 2019 likely owing to the increased steps consumers have taken to help protect their personal data:
| | | |
| --- | --- | --- |
| 2019 | Steps Taken by Consumers | 2016 |
| 85 per cent | Review credit card statements for fraudulent activity | 79 per cent |
| 60 per cent | Check my credit report | 28 per cent |
| 60 per cent | Limit purchases made online | 57 per cent |
| 52 per cent | Avoid using public Wi-Fi | 47 per cent |
| 51 per cent | Updated security passwords | 44 per cent |
"Identity thieves and fraudsters never take a holiday," said Kuzmic. "It's certainly encouraging to see more people taking precautionary steps to help stop identity theft and fraud before it happens. This includes checking your credit report, which once again we are pleased to see more people doing compared to three short years ago."
CREDIT SCORE(S) TO HELP ASSESS FINANCIAL WELLNESS
In addition to checking their credit reports, survey respondents indicated they are also obtaining their credit scores. Almost half (48 per cent) said they obtain their score at least annually, while three-in-ten (28 per cent) said they obtain their scores monthly. Younger adults (18-34) are significantly more likely to check their credit scores monthly versus those over the age of 45 (36 per cent versus 25 per cent).
"Checking your credit reports and obtaining credit scores is a good way to assess the credit aspect of your financial well being," Kuzmic added. "It's important for people to remember that there have always been a variety of credit scores in the marketplace, and the situation is no different today. Different algorithms and weightings in the score calculations mean that you might see your credit scores varying from one source to the next. The bottom line is knowing your scores can serve you well in your financial planning."
To learn more about how credit works, consumers are encouraged to visit Equifax Canada's education hub. The site offers insights on how different actions can affect their credit scores and provides resources to improve their financial literacy.
*An online survey of 1,566 Canadians was completed between September 20-23, 2019, using Leger's online panel. The margin of error for this study was +/-2.5%, 19 times out of 20.